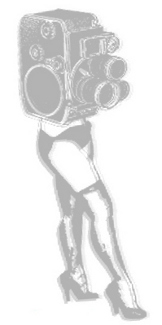 bring it!
A dazzling array of talent from today's adult cinema, working in a wide range of genres and visual styles, steps up with a hot sampling of their recent creative endeavors. This year's program includes excerpts from:
artcore
Directed by Carlos Batt, 2010, USA, excerpt.
Playing with the ever-evolving interest in sexuality in the media – movie stars playing adult stars, celebrity sex tapes, runway fetish shows and reality television – a sinful digital mix tape blending music, mood and tempo to create a new approach to recording sex.
billy castro does the mission
Directed by Courney Trouble, 2010, USA, excerpt.
Hit the dirty streets of San Francisco's Mission District with Billy Castro, a hot transman who knows his way around.
chloe's column: fuck fame
Directed by Ted D, 2010, United Kingdom, excerpt.
An exploration of the murky world of celebrity through the eyes of a British journalist, Chloe, as she pursues adventures both in and out of the sack.
my own master
Directed by Kimberly Kane, 2010, USA, excerpt.
No man can tell Kimberly Kane how to fuck or who to fuck, and in this movie she proves it!
return of the post apocalyptic cowgirls
Directed by Maria Beatty, 2010, France, excerpt.
In the languidly arid, barren and punishing realm of the desert, Surgeon Scofflaw now reigns as Dom. Equipped with her new errand boy on her arm, together they search the desert for resources and new playthings.
tristan taormino's rough sex II
Directed by Tristan Taormino, 2010, USA, excerpt.
Challenging the conventional wisdom about the fantasy lives of women, participants give – and demonstrate – their definitions of rough sex, why they love it, how they establish trust with their partners, and what they need to feel safe to play on the edge.
.
.
The Bring It! audience will vote on their favorite excerpt of the showcase and the winner will be announced at Sunday evening's Award Ceremony.
.
.
location:
Anthology Film Archives
32 Second Avenue (@ 2nd Street)
.
admission:
$10/door; $9/advance; $6/seniors & students (door only)
18 and over only.
.
Special pricing… Pornopalooza!
A matinee porn trilogy – Saturday 1 pm, 3:15 & 5:30 – see all three programs for only $12/advance purchase!