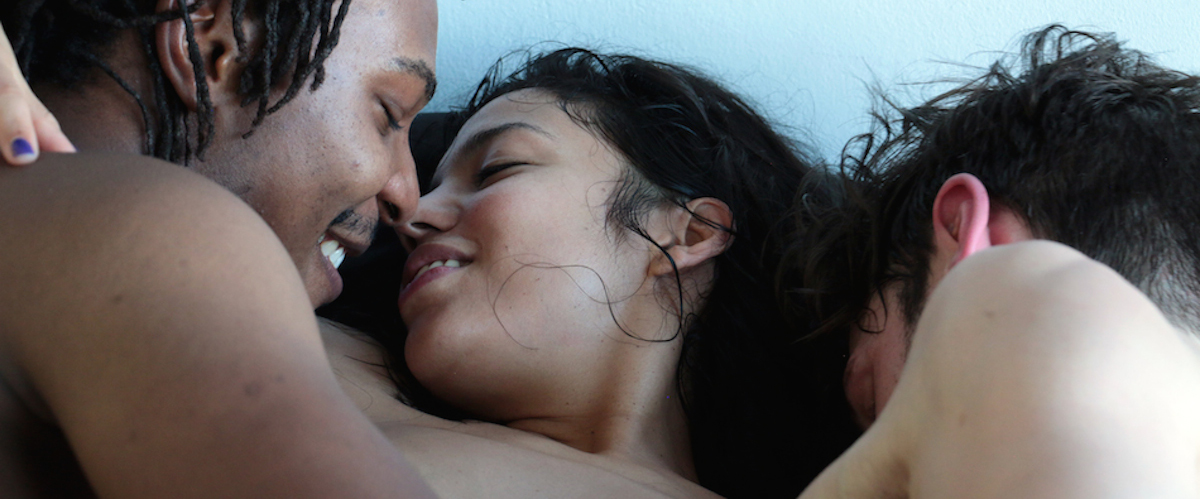 .
This collection of shorts explores a range of co-minglings that move beyond the traditional couple construct. Sometimes successfully, sometimes not so much.
monkey lion and the wolf
A pansexual fable, set in a primeval forest. Monkey Lion was master of the chase, but his charms and his pride could not prepare him for the coming of the Wolf.
Directed by Nara Denning, 2014, USA, 8 minutes. World premiere.
the ethical slut
Bridging the gap between middle-class reality and the sexually-liberated underworld, this web series, inspired by the infamous book of the same name, follows Dotty and Jackie as they navigate the world of polyamory.
Directed by Ben Fritz, 2015, USA, three episodes totaling 21 minutes. Stars Melissa Nearman and Betsy Cruise.
daybreak
The delicious pleasure of breakfast in bed…and other surprises.
Directed by Urvashi, 2106, USA, 11 minutes. Stars Satya, Avalon and Julian.
four-day weekend
A middle-aged couple, married for twenty-three years, takes a four-day break from each other. The aftermath leaves their relationship shaken and tested, but not broken. Directed by Nicole Jones, 2016, USA, 20 minutes. Stars Ben Koldyke and Nicole Jones.
like totally hot couple seeking same
Isabelle and Jean Luc are a normal, uptight Parisian couple in search of a way to spice up their marriage. So they travel to the one place in the world known for its debauchery … Williamsburg, Brooklyn.
Directed by Marcel Simoneau & Kirsten Russell, 2015, USA, 17 minutes. Stars Celine Perra, Roger Contebardo, Marcel Simoneau and Kirsten Russell. » watch trailer
been too long at the fair
A longtime patron recalls his erotic encounters at the Fair Theater, revealing how this New York institution has managed to stay open and serve its gay clientele for over 35 years.
Directed by Charles Lum & Todd Verow, 2015, USA, 6 minutes.
trinity
"Sometimes in a relationship you need to shake things up a bit."
Directed by Ms. Naughty, 2017, USA, 6 minutes. Stars Lina Pembe, Parker Marx and Rooster, pictured above. US premiere. » watch trailer
.
date & time:
Thursday, March 16 – 7:00 PM
.
location:
Anthology Film Archives
32 Second Avenue (@ 2nd Street)
.
admission:
$11; $8/seniors & students
18 and over only.