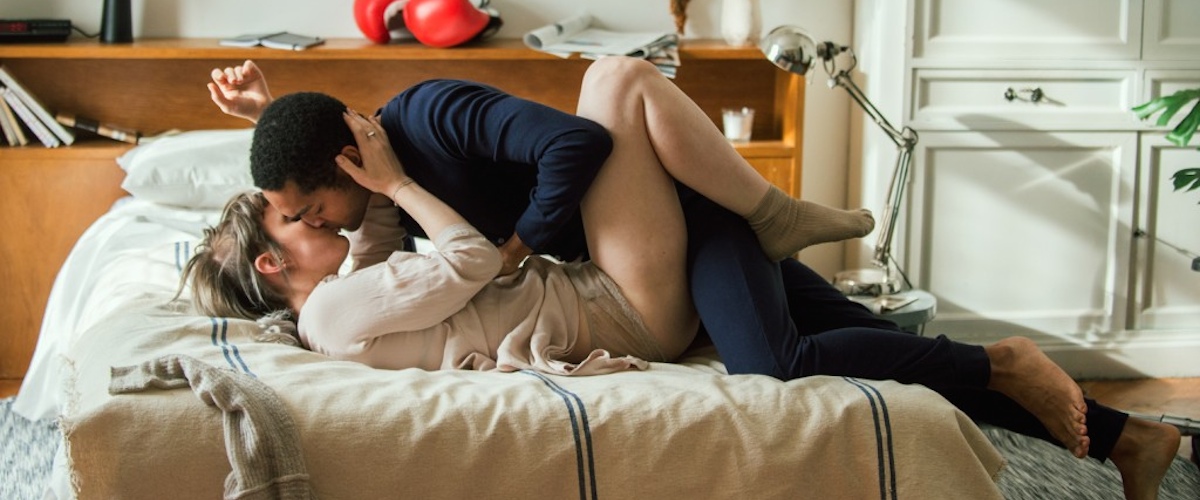 As we ready ourselves for new political realities, these shorts stake a claim for female agency and the power of speaking one's desires.
f*ck yes: protection
Things have gotten hot and heavy, but there's no protection in sight. What's a couple to do?
Directed by Emily Best, 2016, USA, 3 minutes. Stars Brennan Kelleher and Lauren Schacher.

sapiosexual
Cass is a sapiosexual, someone who is attracted to intelligence over looks. For her, going on a date involves more than originally meets the eye. Directed by Kristin Heckler, 2016, USA 14 minutes. Stars Ryan Natalino, Dustin Hurthler and Graham Miles.

since you asked so nicely
Friends and fuck buddies, Pandora Blake and Parker Marx meet unexpectedly in Berlin and head back to her flat for tea and cake. Directed by Ms. Naughty, 2016, Australia, 13 minutes. US premiere. » watch trailer
my moaning neighbor
"Dear tenant of the 2nd floor: The screams and moaning of your guests bounce all over the inner courtyard day in, day out!" Directed by Erika Lust, 2016, Spain, 8 minutes. Stars Mickey Mod and Vex Ashley, pictured above. US premiere. » watch trailer
pancit canton
A documentary of tattered love, encapsulating the ravenous, delightful winds of lustful youth.
Directed by Taylor Bennett, 2016, 3 minutes. Also features Francesca Gonima.
see me
"Who do you see? A stereotypical good girl? Someone who needs your sympathy? I wonder: could you ever spot me? Do you see me?" Directed by Ms. Naughty in collaboration with/starring Mel Lou, 2016, Australia, 3 minutes. US premiere.
broken hearts are for assholes
A hot exhibitionist helps Margie heal her broken heart.
Directed by Margie Schnibbe (aka Vena Virago), 2016, USA, 9 minutes. US premiere.
birth
Rendered barren by a recently discovered medical condition, Lilith Luxe is filled with Jesse James' fist as the two are heard having an intimate conversation about loneliness, emptiness and family.
Directed by Lilith Luxe & Jesse James, 2017, USA, 17 minutes. New York premiere.
f*ck yes: fingers
Consent is sexy, and sultry, even well into a long-term relationship.
Directed by Emily Best, 2016, USA, 3 minutes. Stars Marnie Alton and Erica Anderson.
.
date & time:
Friday, March 17 – 9:00 PM
.
location:
Anthology Film Archives
32 Second Avenue (@ 2nd Street)
.
admission:
$11; $8/seniors & students
18 and over only.