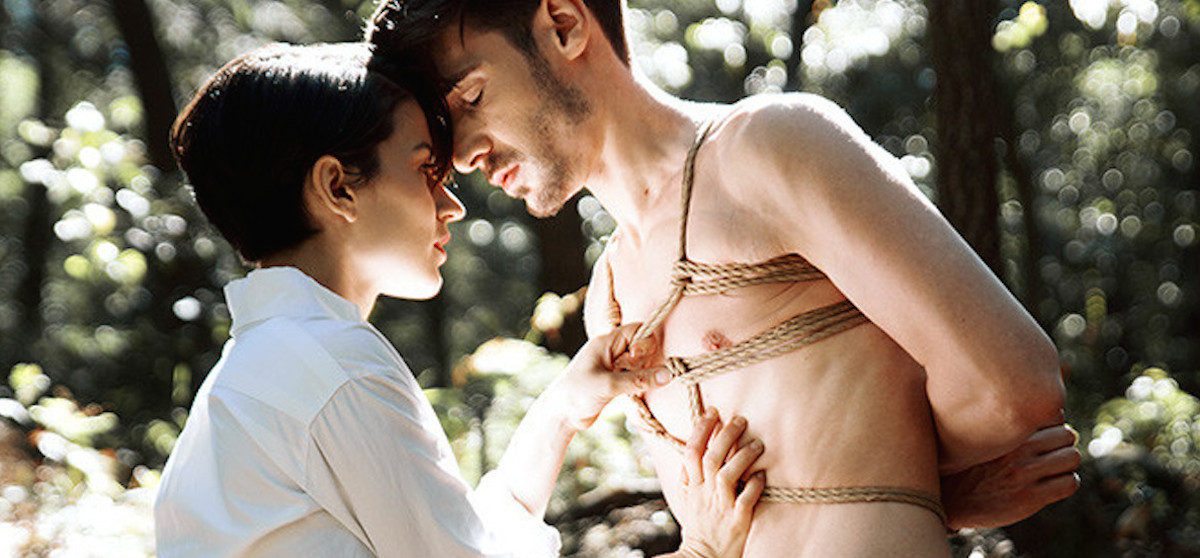 For our 15th anniversary season opener, we've pulled together a sizzling assortment of new shorts from some of the amazing filmmakers and performers whose award-winning work has graced our screens over the years!
blow job 2017
A reinterpretation of a classic with a modern twist.
Directed by Charles Lum and Todd Verow, 2017, USA, 4 minutes.
rusalka
Imagine Hans Christian Andersen's "The Little Mermaid" retold by Tom of Finland, and throw in an homage to early gay erotic films, set to the music of Antonín Dvořák's opera of the same name.
Directed by Wes "Potato" Hurley, 2017, USA, 8 minutes. Stars The Luminious Pariah, Chris Harder, Hisam Goueli, Pete Rush and Matthew Cotner.
shapeshifters
Part Three of the Sex & Space Trilogy. After two porn films with dancers, this is a dance film with porn stars, where Jiz Lee, Gala Vanting, KAy Garnellen, Bishop Black, and Jasko Fide talk about their performance practice and try out some contemporary dance improv tasks. No sex, no nudity? Scandalous!
Directed by David Bloom, 2016, Germany, 20 minutes.
sunday with aleta
Two people in the same place, having different conversations, during one BDSM scene.
Directed by and stars Stephen Elliott w/Aleta, 2016, USA, 5 minutes.
f*ck yes: bucket list
Two women in a May-December romance lay all of their wants and needs on the table.
Directed by Jessica King, 2018, USA, 4 minutes. Stars Guinevere Turner and Kaitlin Webster.
devourable
A real-life polyamorous couple, JanEva and Calliope, are passionate sexual adventurers, always keen to explore new experiences together. In this explicit documentary they share their journey, discussing their unique relationship and celebrating spring with a romantic romp in a nearby park, and a raunchy bit of roleplay involving heels and Dr. Frank 'n Furter. Directed by Ms. Naughty, 2017, Australia, 12 minutes.
labia of love
A colorful testament to loving your labia.
Directed by and stars Morgana Muses, 2017, Australia, 5 minutes.
tie me up! a shibari documentary
Explores the balance between dominance and submission of a female rigger and a male model, whose sexual tension shifts rapidly between tender caresses and play fighting. As the ropes creak and the gasps increase, it becomes clear that the art of Shibari is a complex, fluctuating force that takes great skill to tame – with magnificent results. Directed by Erika Lust, 2017, Spain, 22 minutes. Stars Eris and Parker Marx, with Kali Sudhra and Alberto No Shibari. (Pictured, above.)
writing in bed
A mean case of writer's block and noisy roommates make it very hard for Parker to get any work done. But when a rowdy and tipsy Aaron stumbles into her room late at night, she finds herself drawn to an inspiring distraction. Directed by Shine Louise Houston, 2017, USA, 19 minutes. Stars Ingrid Mouth and Tommy Pistol.
» watch trailer
.
date & time:
Thursday, March 15 – 7:00 PM
.
location:
Anthology Film Archives
32 Second Avenue (@ 2nd Street)
.
admission:
$14; $11/seniors & students, $10/CineKink members
18 and over only.