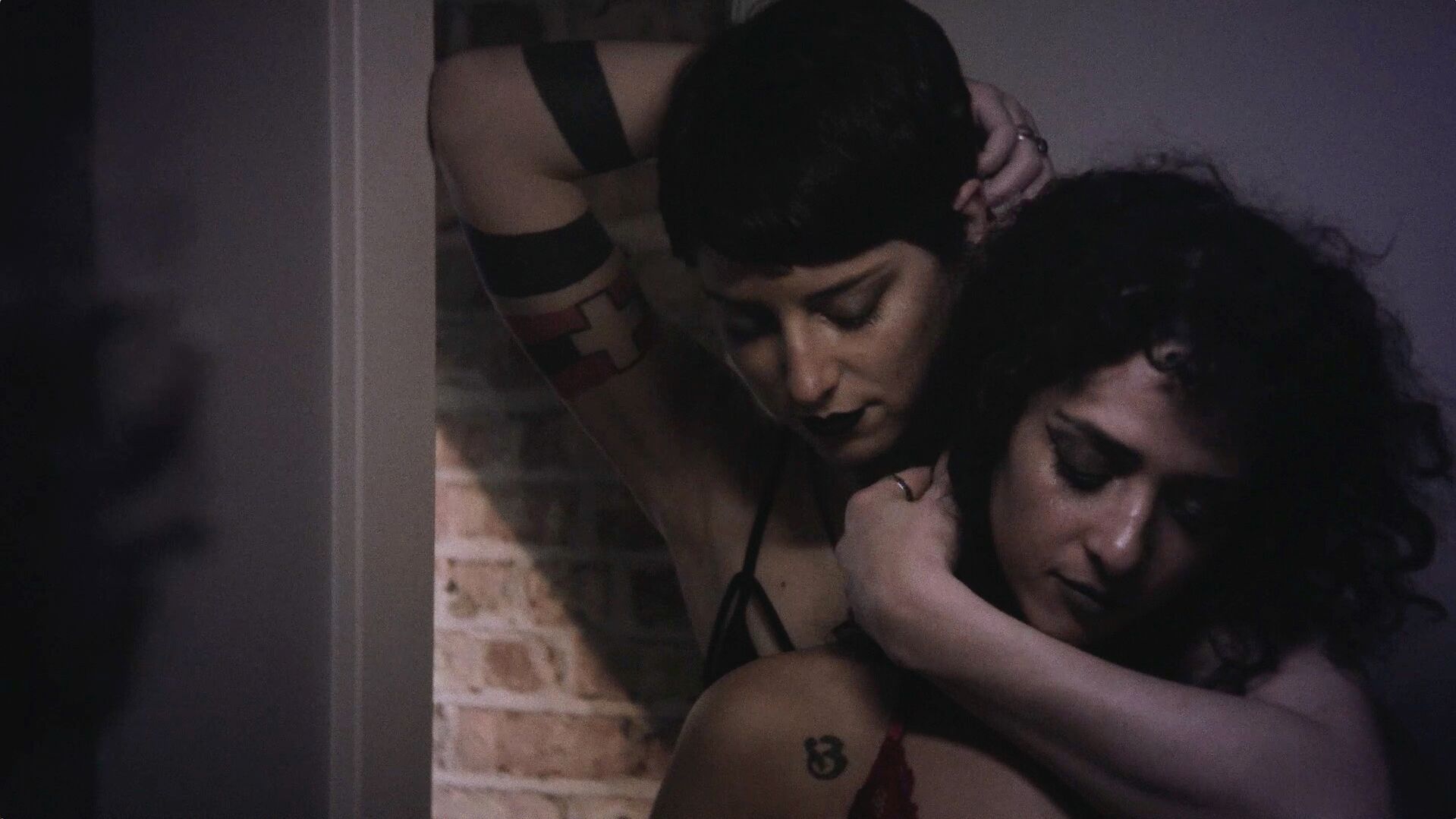 A kinky collection of shorts that probe, prod and play with the dynamics of sexual power and release, control and submission.
switch hitter
Switch Hitter and his sidekick, Voyher, fight crimes against sexuality. In this episode they battle the villain known only as 'The Prude.' Directed by Julia Precourt, 2015, USA, 5 minutes.
don't fuck with england
A love story of words, whips, fries, and chips.
Directed by Rocket Ear, 2017, USA, 2 minutes.
control room
Using video footage shot in 2010, this experimental video piece documents artist Liz Collins' journey into desire through SM role-play scenes. Directed by Liz Collins and Lauryn Seigel, 2017, USA, 2 minutes.
aspik
Can you get high from bathing in a DIY-built transparent bathtub filled with 100 liters of vegan jelly? Genderqueer performer Finn Peaks tries it out in this wet and messy fetish ritual.
Directed by Doxytocine and Theo Meow, 2017, Germany, 6 minutes.
reverence / violence
A visual experiment portrays the various emotional states that run though a BDSM session.
Directed by Mixxim, 2017, Sweden, 7 minutes.
rituals + worship
An intimate documentary about the philosophy and practice of Caritia, a wildly erotic, London-born, Berlin-based creative of Afro-Caribbean descent who is setting up her next BDSM workshop.
Directed by Morgana Muses, 2016, Germany, 15 minutes. » watch trailer
library hours
A recent widow named Camille falls into a strange, long-distance courtship with a librarian named Delphine, her dead husband's first wife. A love story about books and bondage. Directed by Jim Vendiola, 2017, USA, 11 minutes. Stars Cam Damage and Melissa Vento. Pictured, above. » watch trailer
driven, episode 1
The author of several books, Paul Mitchell hasn't written in a long time. Instead he spends much of his time as a driver for Panda Car, a car-sharing platform rival to Uber. He divides the rest of his time between his dominatrix girlfriend and secret visits to a downtown dungeon. Directed by Stephen Elliott, 2017, USA, 12 minutes. Stars Jennifer Missoni, Paul Glover, Michael Cunningham, Will Dagger, Ariana Chevalier, Nina Binder and Stephen Elliott.
switch
A dominatrix is asked by the man she loves to submit to a dangerous politician in order to save their underground fetish club. Directed by Persephonie Rose, 2016, USA, 13 minutes. Stars Tara Dane, Ben Paden and Ryan Barber.
black out
"A black man has his hands around my throat. This is not a metaphor."
Directed by Jamie DeWolf, 2017, USA, 3 minutes. Written by and starring Wonder Dave, with Jet Noir.
breathe
When a full range of implements comes into play, all the more reason to breathe. Directed by Goodyn Green, 2016, Germany, 20 minutes. Stars Sadie Lune and Jasko Fide.
.
date & time:
Saturday, March 17 – 9:45 PM
.
location:
Anthology Film Archives
32 Second Avenue (@ 2nd Street)
.
admission:
$14; $11/seniors & students, $10/CineKink members
18 and over only.