>Tuesday, September 11, 2007 – 7 pm
The Pioneer Theater and CineKink team up to present another evening of kinky movies, pizza and beer.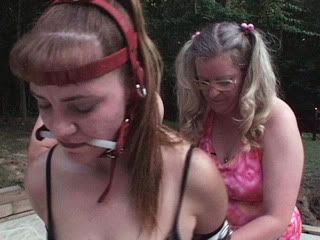 "Born in a Barn is a model documentary on the subject, a respectful study that pays homage to the subculture without sugarcoating or sensationalizing it."
– Gary Morris, Bright Lights Film Journal
"Anyone who harbors a private kink should see this film."
– Abby Ehmann, Eros Zine
BORN IN A BARN
(Audience Choice Award – Best Documentary/CineKink 2004)
An intimate and sometimes humorous look into the extraordinary erotic lives of four seemingly ordinary people. Delving deep into the world of ponyplay, the fast-growing fetish in which enthusiasts roleplay as human ponies and handlers, this documentary explores the complex motives that drive this particular passion and reveals how identity can be found in the pursuit of unconventional desire. (Directed by Elizabeth Elson, 2004, USA, 50 minutes.)
Plays with SHINE: CONFESSIONS OF A RUBBER FETISHIST, a funny, thought-provoking and unapologetic visit with Shine, who goes to work everyday, plays chess, likes to dress in rubber and craves being whipped by his friends. (Directed by Karine Baczynski, 2003, USA, 28 minutes; Best Documentary Short/CineKink 2003.)
Free pizza and beer reception follows for all ticket holders!
More info and tickets!