The tenth anniversary edition of CineKink NYC will present an afternoon dedicated to feminist porn and adult cinema on Saturday, March 2, 2013.
First up at 1 PM, The Feminist Porn Show features feminist pornographer Tristan Taormino, who will introduce the concept of feminist porn and play a selection of short clips she has curated from filmmakers around the world. Narrated by Tristan, the show highlights the work of both pioneers and newcomers, many whose works have previously screened at CineKink, including Candida Royalle, Annie Sprinkle, Nina Hartley, Jackie Strano and Shar Rednour, Petra Joy, Erika Lust, Shine Louise Houston, Anna Brownfield, Carlos Batts, N. Maxwell Lander, Emilie Jouvet, Louise Lush, Jaiya, Maria Beatty, Buck Angel, Madison Young, Courtney Trouble, Morty Diamond, Tobi Hill-Meyer, Kelly Shibari, Loree Erickson and more.
At 2:30 PM, The Feminist Porn Panel will have Tristan joined by groundbreaking filmmaker Candida Royalle, professor and porn scholar Mireille Miller-Young, and sex-positive performers Jiz Lee, Sinnamon Love, Kelly Shibari and Courtney Trouble for a discussion of their contributions to The Feminist Porn Book: The Politics of Producing Pleasure. Sharing their thoughts on feminist porn as a film genre, an industry, and a movement, the panelists will explore what feminist porn is, how it relates to the mainstream adult industry, and their experiences creating, performing, or studying it.
Immediately following the panel, CineKink will host a reception and book signing to celebrate the publication of The Feminist Porn Book, the first collection to include writings by scholars, academics, producers and performers about feminist porn.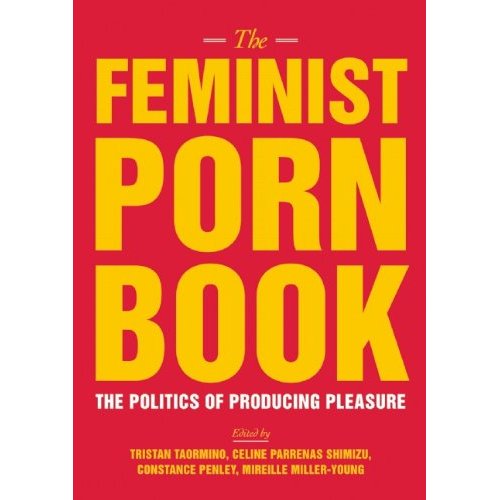 And at 4:30 PM, CineKink's annual competition and showcase, BRING IT!, will feature a dazzling array of talent from today's adult cinema, all stepping up with a hot sampling of their recent creative endeavors. Taormino herself is a past two-time winner of the competition, in 2010 (for Tristan Taormino's Rough Sex) and 2011 (for "Tristan Taormino's Rough Sex 2"); the line-up for the 2013 showcase has not yet been announced.
"I am so thrilled to bring The Feminist Porn Show and a discussion about feminist porn to CineKink," said Tristan. "CineKink is one of the only film festivals that supports and nurtures feminist porn, and creates space to talk about the politics that come along with it."
Ticket prices are $10 for each individual program, $15 for the The Feminist Porn + Panel, or $25 for the entire afternoon, with additional discounts available for advance, online purchase. An all-access festival pass, including admission to all screenings and parties for taking place during CineKink NYC, is also available.
Scheduled for February 26-March 3, 2013, our tenth anniversary festivities will feature a specially-curated program of films and videos that celebrate and explore a wide diversity of sexuality. In addition to screenings, plans for the festival also include a short film competition, audience choice awards, and a gala kick-off event, along with retrospective screenings commemorating a decade's worth of kinky programming. The full festival schedule will be announced in early February.
THE FEMINIST PORN PANEL – Participant Bios
Tristan Taormino is a writer, sex educator, speaker, and feminist pornographer. She is the author of seven books and editor of 25 anthologies including her latest, The Ultimate Guide to Kink: BDSM, Role Play and the Erotic Edge. She runs the adult film production company Smart Ass Productions and has directed and produced twenty-four sex education and porn films including the groundbreaking series based on real female kink fantasies, Rough Sex, and the Expert Guide sex education series, which she created for Vivid-Ed. She was the first female director to win an AVN Award for Best Gonzo Movie for the debut film in her reality series Chemistry, and she received the Trailblazer Award at the Feminist Porn Awards in 2010.
Jiz Lee is a genderqueer porn star who is known for a unique androgynous look, female ejaculation, vaginal fisting, strap-on performance, and a fun sex-positive attitude about sex. The award-winning performer, who prefers the pronouns "they/them," is an advocate for diversity and sex-positive pornography with gender agency and ethical production. Jiz is a contributor to pornography anthologies, and has spoken at academic institutions such as Stanford and UC Berkeley on queer sexuality and their experiences in porn. With a background in web and arts management, Jiz runs the philanthropic porn experiment Karma Pervs, raising money through erotic images for the benefit of sex-positive, queer, and kinky charity projects. Ever fascinated by the radical potential of sex, love, and art, Jiz runs a personal blog about sex work as a medium for social activism at JizLee.com.
Sinnamon Love is an adult performer and fetish model. She began performing in adult films in the early 1990s, and has since appeared in approximately two hundred movies. She directed the movie My Black Ass 4, which received nominations at the 2001 AVN Awards for Best Ethnic-Themed Video and Best Anal Sex Scene (Video). Love was admitted into the Urban X Hall of Fame in 2009, and the AVN Hall of Fame in 2011. She was profiled in the book Money Shot: The Wild Nights and Lonely Days Inside the Black Porn Industry by Lawrence C. Ross Jr. Her writing has appeared in Hos, Hookers, Call Girls, and Rent Boys: Professionals Writing on Life, Love, Money, and Sex, edited by David Henry Sterry and R. J. Martin Jr.
Mireille Miller-Young is associate professor of feminist studies and affiliate associate professor of black studies, film and media studies, and comparative literature at the University of California, Santa Barbara. Her research explores race, gender, and sexuality in visual culture, media, and the sex industries in the United States. Her forthcoming book, A Taste for Brown Sugar: Black Women, Sex Work, and Pornography, examines African American women in pornography.
Candida Royalle, president of Femme Productions, is a frequent TV and radio guest and sought-after expert on relationships, sexuality, and women's self-empowerment. She is the author of How to Tell a Naked Man What to Do: Sex Advice From a Woman Who Knows. Royalle was a popular adult film star during the "golden age" of porn, between the years of 1975 and 1980. With that firsthand experience, Royalle felt she could effect change within the adult film industry, providing a woman's voice to a previously male-dominated genre. Royalle pioneered the genre of erotic movies by and for women and couples. Widely used by counselors and sexologists, her work has received international accolades for its sex-positive and egalitarian approach to sexuality and eroticism. In 1995 Royalle, along with Groet Design, a Dutch industrial design company, created the Natural Contours line of stylish and discreet intimate massagers. Royalle has lectured at the Smithsonian Institute, the American Psychiatric Association's national conference, and the World Congress on Sexology, as well as numerous universities including Princeton, Columbia, Wellesley College, and New York University. Royalle is a member of the American Association of Sex Educators, Counselors, and Therapists (AASECT) and a founding board member of Feminists for Free Expression (FFE).
From her background in design and construction in mainstream film and television production to performing in front of the camera as the sexually-charged figurehead for chubby Asian girls everywhere, Kelly Shibari is a stereotype-breaking tour-de-force. Her Feminist Porn Award-winning site, PaddedKINK, is the premier destination for plus-size fetish performers, and she has the distinct honor of having been the only plus-sized Fleshlight Girl in existence. Her current self-produced project, Kelly Shibari is Overloaded, was nominated for both XBIZ and AVN Awards.
Courtney Trouble is a filmmaker, adult performer, photographer, queer rights activist, DIY genius, and an award-winning feminist pornographer. The founder of TROUBLEfilms, IndiePornRevolution.Com, and QueerPorn.TV, as well of the director of 14 full-length films, including the Reel Queer Production line through Good Releasing and three films through their own line at TROUBLEfilms, Trouble has been producing, directing, and performing in Queer Porn since 2002, and is responsible for coining the term "Queer Porn" as a genre in the mainstream industry. Nominated for 7 AVN Awards, and winner of 5 Feminist Porn Awards, Trouble's films speak to an extremely fluid, authentic, and hardcore version of graphic sexual imagery.