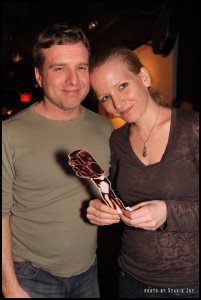 Rounding out multiple days of screenings and parties in its tenth anniversary appearance, organizers for CineKink NYC/2013 announced the recipients of awards in a range of categories during the film festival's closing celebrations held on Sunday, March 3, 2013
"When we set off on our first year of CineKink, little did we think that one day we'd be celebrating a 'decade of decadence,'" noted Lisa Vandever, CineKink co-founder and director, as she presented the awards. "It's because of amazing, quality films that we've reached this important milestone and it's a pleasure to honor just a few of those tonight."
Audience Choice Awards were given to Remedy (Cheyenne Picardo; pictured above, right) for Best Narrative Feature, with Betty Page Reveals All (Mark Mori) winning for Best Documentary Feature. The CineKink Choice awards were determined by audience ballot just following each eligible film's screening during the festival.
In the shorts competition, juried festival awards went to Pinecone (Michael Markham) for Best Comedy Short, Krutch (Clark Matthews) for Best Dramatic Short, Impact (Mollena Williams) for Best Experimental Short, and to "Zucht und Ordnung" (Jan Soldat) and Ritual (Jörg Fockele), which tied for Best Documentary Short. Honorable Best Mention awards were presented to 50 Seconds of 50 Shades (Bo Blaze), Amber (Aven Frey, Gala Vanting and Frank Ly) and Rift (Keith Hodder).
Determining the shorts awards, CineKink jurors this year included Viviane Tang, ring-leader of the sex blog "Viviane's Sex Carnival," Mike White, editor and publisher of the independent film-focused "Cashiers du Cinemart," and Bill Woods, a film festival programmer and curator of the New Filmmakers series at Anthology Film Archives.
The fourth annual CineKink "Bring It!" award, determined by audience ballot during a presentation of excerpts showcasing current adult cinema, went to Joy Club (Petra Joy).
The CineKink Tribute, recognizing extraordinary depictions of kink and sex-positivity in mainstream film and television, was presented to Sessions (Ben Lewin/Fox Searchlight) for its "amiable and often humorous assertion that sexual pleasure is an essential human right." Honorable mentions for the CineKink Tribute went to the film Hysteria (Tanya Wexler/Sony Pictures Classics) and to the television show Our America with Lisa Ling (OWN), with a special "'Pokemon Polyamory' Farewell Tip of the Hat" presented to the outgoing series 30 Rock for "introducing such terms as 'normaling' and 'sex idiot' in the American vernacular." Works eligible for consideration this year were those released or aired in the United States from January 1 until December 31, 2012.
Making its tenth anniversary run February 26-March 3, 2013, CineKink NYC featured a specially selected program of films and videos that celebrate and explore a wide diversity of sexuality. Billing itself as "the kinky film festival," the event is dedicated to the recognition and encouragement of sex-positive and kink-friendly depictions in film and television. With offerings drawn from both Hollywood and beyond, works presented at CineKink NYC ranged from documentary to drama, comedy to experimental, mildly spicy to quite explicit – and everything in between. Sponsors of CineKink NYC/2013 included Crystal Delights, KinkyMedical.net, njoy and TakeDown Piracy, along with ainsley-t, DistribPix, Feminist Porn Awards, FetishMovies, Leather Archives & Museum, Les Jeux du Marquis, National Coalition for Sexual Freedom, Pleasure Salon, Reload and The Eulenspiegel Society.
Selections from CineKink NYC will be featured in a traveling version of the festival, slated to appear in various cities throughout the coming year.