Rounding out multiple days of screenings and parties in its eleventh anniversary appearance, organizers for CineKink NYC/2014 announced the recipients of awards in a range of categories during the film festival's closing celebrations held on Sunday, March 2, 2014.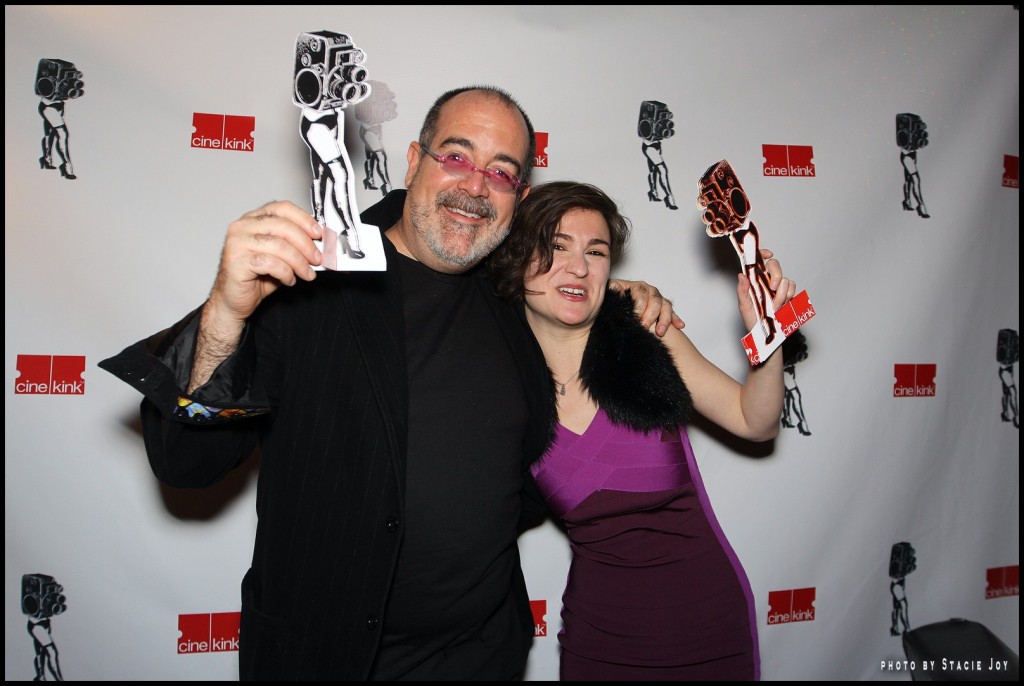 CineKink award winners Paul Deeb and Creamy Coconut.
"It's so exciting to be stepping into the next decade of CineKink," noted Lisa Vandever, CineKink co-founder and director, as she presented the awards. "If the quality of the works we're honoring tonight are an indication, we've got great things ahead."
Audience Choice Awards for CineKink 2014 were given to "Broken Side of Time" (Gorman Bechard) for Best Narrative Feature, with "The Sarnos: A Life in Dirty Movies" (Wiktor Ericsson) winning for Best Documentary Feature. The CineKink Choice awards were determined by audience ballot just following each eligible film's screening during the festival.
In the shorts competition, juried festival awards went to "Humain Chaleur" (Christophe Predari) for Best Dramatic Short, "Another Happy Anniversary" (Miranda Bailey) for Best Comedy Short, "Dear Jiz" (Ms. Naughty) and "Trains" (Paul Deeb) tied for Best Experimental Short, and "Black Folk Don't: Do BDSM" (Angela Tucker) for Best Documentary Short. Honorable Best Mention awards were presented to "Music Box" (Anna Brownfield), "Tom's Gift" (Todd Verow & Charles Lum) and "Un Bisous Americain" (JM Darling).
Determining the shorts awards, CineKink jurors this year included Viviane Tang, ring-leader of the sex blog "Viviane's Sex Carnival," Bill Woods, a film festival programmer and curator of the New Filmmakers series at Anthology Film Archives, and Miss Alyx, an alumnni CineKink filmmaker.
The fifth annual CineKink "Bring It!" award, determined by audience ballot during a presentation of excerpts showcasing current adult cinema, went to "de-railed" (Quinn Cassidy and Creamy Coconut), with a first-runner up slot going to "The Submission of Emma Marx (Eddie Powell and Jacky St. James).
The CineKink Tribute, recognizing extraordinary depictions of kink and sex-positivity in mainstream film and television, was presented to the film "Don Jon" (Joseph Gordon-Levitt/Relativity Media), for its "sly look at the myth-building realms of both porn and romance." Honorable mentions for the CineKink Tribute went to the series "Masters of Sex" (Showtime), the television program "The Real 50 Shades of Grey" (E!), and to the film "Afternoon Delight" (Jill Soloway/Film Arcade). Works eligible for consideration this year were those released or aired in the United States from January 1 until December 31, 2014.
Making its 11th annual run February 25-March 1, 2014, CineKink NYC featured a specially selected program of films and videos that celebrate and explore a wide diversity of sexuality. Billing itself as "the kinky film festival," the event is dedicated to the recognition and encouragement of sex-positive and kink-friendly depictions in film and television. With offerings drawn from both Hollywood and beyond, works presented at CineKink NYC ranged from documentary to drama, comedy to experimental, mildly spicy to quite explicit – and everything in between.
Sponsors of CineKink NYC/2014 included Bowery Bliss, Crystal Delights, KinkyMedical.net and Takedown Piracy, along with DistribPix, Leather Archives & Museum, National Coalition for Sexual Freedom, Purple Passion and The Eulenspiegel Society.
Selections from CineKink NYC will be featured in a traveling version of the festival, slated to appear in various cities throughout the coming year.