A TRIBUTE TO CLUB 90 will be the centerpiece of our twelfth annual film festival, CineKink NYC, which runs February 24-March 1, 2015.
Bringing together four of the club's founding members for a rare public reunion, the special event will take place Friday, February 27 at 9:30 PM, at Anthology Film Archives.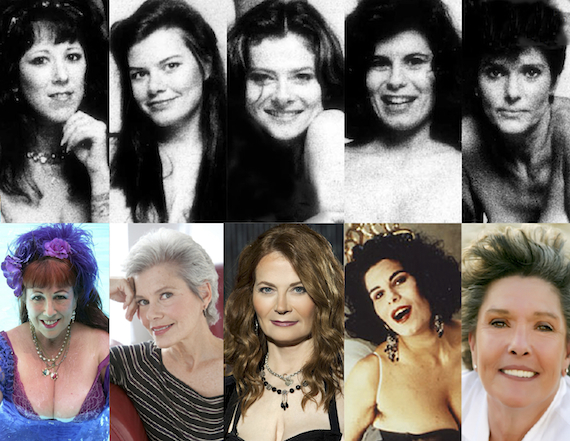 Five adult film stars from New York's "Golden Age of Porn," Veronica Hart, Gloria Leonard, Candida Royalle, Annie Sprinkle and Veronica Vera, came together in 1983 to create Club 90, the first-ever porn star support group. Named for the address of the living room where they regularly met, the group forged a bond that would continue for more than thirty years. Turning to one another as they began to navigate life after starring in blue movies, these dynamic women went on to pursue their own personal and creative goals, and in the process, blazed new trails in the fields of human sexuality, women's empowerment, erotic expression, and free speech.
– Veronica Hart, aka Jane Hamilton, has had a long career in adult and mainstream movies, still working on both sides of the camera. She also uses her expertise to educate women in the U.S. and China on issues of love, intimacy, aging and self-pleasure.
– Gloria Leonard debated some of the toughest anti-porn activists and toured college campuses as a self-described "stand up constitutionalist," enlightening students on the First Amendment. She was the first woman president of the Free Speech Coalition.
– Candida Royalle created Femme Productions in 1984 and became known for "pioneering erotic cinema from a woman's perspective," encouraging other women to follow her lead.
– Annie Sprinkle morphed into a performance artist and sexologist, sharing her experiences through her own unique brand of "Post Porn" films, books and articles, theater performances, and teaching.
– Veronica Vera founded the world's first cross-dressing academy, Miss Vera's Finishing School for Boys Who Want to Be Girls, enriching the lives of trans people across the gender spectrum.
In 2002, Ms. Sprinkle earned her PhD from the Institute for the Advanced Study of Human Sexuality in San Francisco. Mses. Hart, Leonard, Royalle and Vera were each awarded the degree Doctor of Human Sexuality in 2014.
"The women of Club 90 have always been a huge source of inspiration for those of us in the sex-positive movement, particularly women," said Lisa Vandever, CineKink co-founder and director. "With their unabashed stance that feminism and sexual self-expression can be one, and a body of work that spans an incredible range of creativity and activism, we're honored to bring them together for this rare reunion."
Featuring clips of the group's favorite work from both sides of the camera, A TRIBUTE TO CLUB 90 will also include a special remembrance of Gloria Leonard, who passed away in 2014, along with frank and funny reminiscences of the days when NYC was America's sex film capital, movies were shot on 35mm film, and Times Square was strictly x-rated.
Known as the "kinky film festival," CineKink NYC runs February 24 through March 1, 2015, and will again feature films and videos that celebrate and explore a wide diversity of sexuality. With offerings drawn from both the independent film world and the adult, works presented at the festival will range from documentary to drama, comedy to experimental, slightly spicy to quite explicit – and everything in between.
A TRIBUTE TO CLUB 90 will take place on Friday, February 27, 9:30 PM at Anthology Film Archives (32 Second Avenue, NYC). Tickets are $20 and will be available for advance purchase; discounted festival passes are also available.