>A lovely gift greeted our return from Berlin this week… the realization that we'd been selected by the Village Voice for their annual "Best of NYC" issue!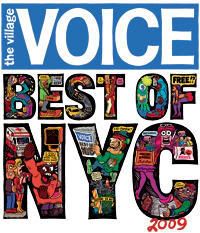 We're naturally very honored that the publication has distinguished us as being the city's Best Way to Watch Smutty Movies:
If you're wary of catching an Xtube virus and are looking for cleaner digs than whatever's left of Times Square's naughty picture joints, CineKink NYC is there for you. Each February, this festival provides the means for you to ditch the laptop and the privacy of your own home, and enjoy kinky film the way it's meant to be enjoyed—in the company of strangers, of course.
Of course! (Though if you'd like to bring a friend along, that's perfectly fine, too.)
Read along here for the rest of the accolades…