>We're excited to offer the possibility of a first-time Dark Odyssey adventure to a lucky pair of CineKink fans!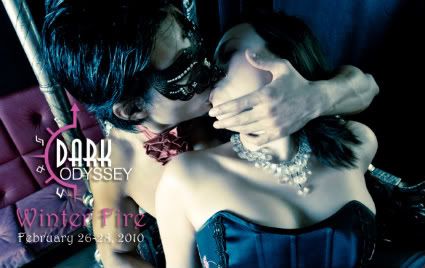 As a participating group, we've been given TWO extra tickets to the sexy organization's next event – Winter Fire – taking place February 26-28 in Washington, DC.
One of our favorite gatherings, you can expect:
* An amazing line up of nationally-known presenters, including sex educators, BDSM masters, top-notch Tantra teachers, relationship experts, and award-winning authors, activists, and community leaders
* Over 60 unique, dynamic workshops on identity, sex, relationships, swinging, polyamory, BDSM, Tantra, spirituality, and lots more
* Special events including a banquet dinner featuring the fabulous The Wet Spots, nightly parties, incredible vendors and, of course, a huge, fully equipped dungeon and other intimate play spaces.
All taking place in the comfort and luxury of a beautiful host hotel located in the heart of downtown Washington, DC – and we'd like to give you the chance to be in the thick of it!
To qualify to win, you must:
* Never have previously attended a Dark Odyssey event
* Be a current CineKink Updates subscriber (if you're not one, you can sign up right here! )
* Send an email to cinekink2010 at cinekink dot com, with "I was a DO virgin!" in the subject line.
* Include preferred email address and/or phone # and/or Twitter name for us to contact you via, should you be a winner.
All entries must be received by 11 pm (et) of Friday, January 29th.
UPDATE: deadline extended until 11 pm (et) of SATURDAY, January 30th!
Winner will be selected at random and receive TWO tickets to the event. Travel, hotel, meals and any other expenses are not included.
And if you're not a virgin? You can still get a slightly discounted rate by selecting CineKink as your participating group when registering!